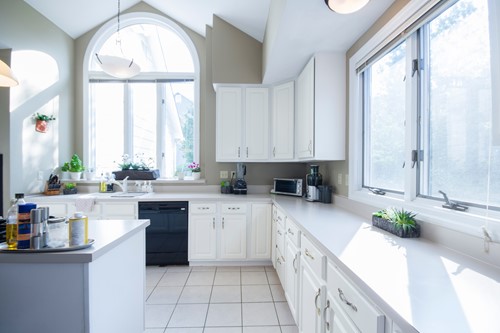 Image by Milly Eaton from Pexels

Cooking or baking, refrigerating food and running the dishwasher all contribute to the amount of energy your home uses overall. According to the U.S. Energy Information Administration, refrigerators use the highest amount of energy in household kitchens. While large appliances require more energy, lighting and other sources of energy, such as water heating, also factor into your total usage. You can save energy in your kitchen with the following energy efficiency tips.
Switch to Energy-Efficient Appliances
Since refrigerators, dishwashers and stoves use up the most energy in your kitchen, consider replacing older ones with more energy-efficient models. Appliances with the Energy Star label can save you a significant amount on your energy usage. For example, refrigerators with this label use roughly 15 percent less energy than newer ones without this label, according to the Department of Energy. They also use up to 40 percent less energy than older refrigerators. The energy savings you'll get from these appliances helps make up for the cost of purchasing them and having them installed.
Use Appliances More Efficiently
The way you use your appliances can have a big impact on how much energy they need.
Refrigerator: Covering foods inside your fridge, keeping the temperature between 35 and 38 degrees and making sure the door is tightly sealed helps reduce energy usage.
Dishwasher: The biggest source of energy use from dishwashers is heating water. You can save energy with your dishwasher by only running it when you have a full load of dishes and letting them air dry when they're done being rinsed.
Stove: To reduce your stove's energy usage, use the right size pot or pan. For example, using a small pan on a large burner leads to a higher amount of wasted energy. Instead of using your oven for a small dish or amount of food, consider other more efficient alternatives, such as your microwave or slow cooker.
Replace Kitchen Lightbulbs
If you use traditional incandescent lightbulbs for overhead lights, task lights and other lights in your kitchen, think about replacing them with more efficient ones. CFL or LED lightbulbs use less energy and have a longer lifespan, so you don't need to replace them as often. Making the switch to these lights can save you in terms of energy usage and utility bills.
Limit Exhaust Fan Use
The exhaust fan in your kitchen can help remove odors and pollutants, improving your indoor air quality. However, you don't need to leave it running for long periods of time to get these benefits. Turning your exhaust fan on while cooking and shutting it off afterwards helps reduce the amount of energy it uses.
If your upcoming plans include buying a home or selling one, contact us.