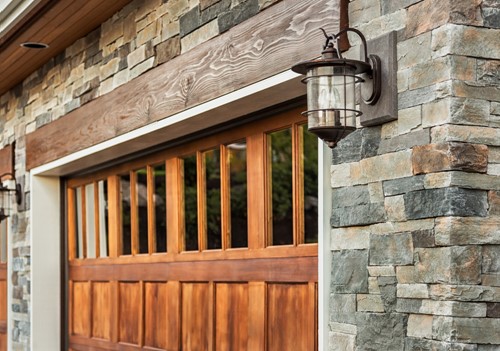 Photo by Breadmaker via Shutterstock
You may be thinking that your best investments are inside the home: a snazzy new kitchen, a spa-like bathroom or new wood floors, but you can actually get a high return on investment (ROI) if you focus on your home's curb appeal.
The first impression potential buyers have of your home is the outside. If you had to guess, what's the best purchase? If you guessed a garage door, you'd be right! Studies show that the recouped cost of a new garage door is usually around 97%, which means you basically get the whole amount back in home value.
Fixing Up the Outside
Before you go investing $4,000 in a new garage door, though, start by fixing up the existing features of your home. That means repairing or replacing vinyl siding, powering washing the outside and giving it a new paint job if necessary. Make sure windows and shutters are clean and without cracks or dings. Most importantly, if your roof is nearing the end of its warranty, or if you have known problems like leaks, now is the time to fix it. While the ROI on a new roof is only about 60%, roof problems can be a huge turn off for buyers, causing your home to sit on the market for longer and costing you more in the long run.
Landscaping
Start on your landscaping plan by cleaning up your yard. Get rid of the trash and yard debris so the yard stays presentable. If you have a green lawn, now is the time to review it. If your grass is growing well and covering the dirt, great! Keep it mowed and you are good to go. If your lawn is having problems, you may want to consider mixing it with other ground covering like gravel, recycled rubber or wood pellets. They are all much easier to maintain, especially in dryer climates not as well suited for grass. If you have empty or dying flower beds, now is the time to fill them up with seasonal flowers and bushes. These give you great color and make your home seem more welcoming to buyers.
Before you start shelling out big money for upgrades, have your real estate agent review your home. They can suggest the best options for your market and price range, as well as provide accurate feedback about your home's curb appeal. They may even have ideas for professional help to get your home in perfect selling shape.