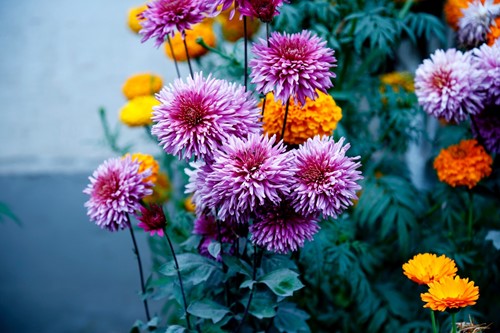 Mixed planters are an excellent way to add color and visual interest to your porch, patio or even indoors. Choosing and arranging which plants to add together in a container is a creative endeavor all on its own and the reward is always stunning and unique. However, if you don't have any specific ideas for a container garden or mixed planter, it's hard to know where to begin. Here are some ideas to inspire you in finding the perfect combination of plants.
Dark Foliage
If you want to make a dramatic statement with your container plants, include dark foliage. Purple, burgundy and green so dark they look black are trendy among plant enthusiasts and easy to find and care for. There are plenty of dense and low-growing options for the lower levels of a planter, including multiple cultivars of coleus. There are also tall options like black mondo grass and canna "Tropicanna Black" which has large, dark reddish leaves growing several feet high.
For an extra touch of drama, opt for plants that have bright flowers to contrast with their darker leaves. Cannas bloom in bright red or pink and black beauty elderberry has deep red leaves with cheerful pale pink blossoms. The "Enchanted Sunrise" begonia's leaves are dark and glossy and contrast well with the large peach-colored blooms. For a groundcover option, try purple sweet potato vine which blooms with small round purple flowers.
Contrasting Textures
Mixing up plant textures is just as important as color and size. The best part is that for texture you can create an entire arrangement based on foliage rather than flowers. Try combining multiple types of moss at the bottom for a soft and fluffy base. Then, add tall, spiky grasses like juncus, blue lyme grass, sedge or Japanese blood grass. You can add in coleus, begonias or caladium for more stunning and unique leaves.
Think Big
Don't forget that trees can grow in pots as well. Adding a small tree to a mixed container can create an excellent look and is a great option for many plant combinations. Some combinations are mutually beneficial for the plants as well. For outdoor containers, majesty palms can grow in the same container as lower plants for an instant tropical vibe. When you plant shade-loving flowers like snapdragons in the same pot, they can benefit from the shelter provided by the palm. You can try the same design strategy with bamboo palm, elephant ear plants, ficus and other tall container plants.
When choosing plants to go together in the same pot, always research specific care needs. You want to combine plants that have similar requirements for light, water and temperature in order for your arrangement to thrive. Root systems and growth behavior are also helpful characteristics to know. Some plants grow deep roots while others spread out, and knowing which is which will help prevent overcrowding and competition for nutrients in the pot. With flowers, it's a good idea to mix plants that have staggered growing seasons. This way, not all the flowers will wilt or die back at the same time and leave a completely dormant container.
These tips should help get you started in making creative and attractive plant combinations for your indoor and outdoor gardens. With a little research and inspiration, you'll be able to create something completely unique and watch your plants grow together.