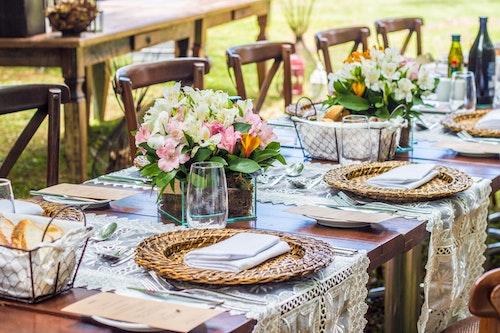 If you're hosting an outdoor dinner party, your choice of outdoor table settings can make a huge impact on the experience. No matter the size of your outdoor space or dining table, you can create a memorable party experience with creative aesthetic details.
Not sure where to begin? Here are some fun ideas and tips for designing your outdoor table:
Choose a color theme for your table decorations
It's best to start by figuring out your color scheme for your outdoor party decor. Whether it's a combination of colors or a single unifying hue, you can use it as a starting point for developing a decorative theme.
Crisp white has been lauded as a favorite garden party color for decades and is also perfect for elegant alfresco celebrations. The white color is also easy to coordinate, and you can find plenty of options when deciding on the flowers to add.
Add a living centerpiece
The best outdoor dining tables are decorated with stunning decor. Choose flowers and plants for your table decor and create a beautiful living centerpiece.
Lavender is both trendy and timeless as natural decor, whether fresh or dried. Other ideas include miniature succulent arrangements, bold bouquets and fragrant herbs from your garden.
Luxuriate with an elegant tablecloth
Functionality is just as important as style when it comes to outdoor entertaining. For a tablecloth, go with a high-performance textile with easy-care features. Not only will it be aesthetically pleasing, but it will last for seasons of parties to come.
You can take color cues from other aspects of your table settings to develop a cohesive theme. Or, go for a boho chic approach and celebrate quirky contrast with mismatched elements.
When planning an outdoor table setting, you'll need all the basics: dinner plates, dessert plates, utensils, glassware and more. However, to really create a memorable outdoor dining experience, use these tips as inspiration for extra special alfresco entertaining.